.
Speak a new language so that the world will be a new world. - Rumi
International School of Languages & Relations (ISOL Academy)
ISOL Academy promotes interconnectedness of all people, all cultures, and all nations. ISOL values literacy in more than one language and considers bilingualism an asset that builds multicultural awareness in an increasingly diverse society.
Our dual language program is unique in the BZOC and offers California Seal of biliteracy (English – Spanish), increased academic performance, awareness and understanding of other cultures.
At the same time, through our adapted Model United Nation (MUN) career pathway, ISOL students acquire knowledge about the world's biggest problems in "peace and security, human rights, and sustainable development" through related courses and practice much needed 21st century skills that inspire and equip them to find solutions for these problems.
Research, Writing, Presentation, Negotiation
Skills of the Future Leaders
Skills that colleges look for and the employers value.
As Medel UN delegates, students assume the role of an ambassador to
the United Nations in a Model UN simulations.
Dual Language Program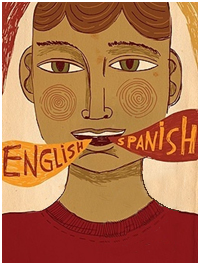 ISOL students interested in participating in Dual Language program will receive rigorous grade-level standards-based instruction in both English and our program's target language, Spanish, to develop academic proficiency in both languages. Freshmen in our Dual Language program will receive 50% of their academic content in Spanish (Spanish, Algebra 1, Biology) and the other 50% in English (Eng. 9A, PE, Health, Career Pathway). ISOL is the only academy in the BZOC that offers a dual language program where students get to enjoy the lifelong advantage of bilingualism like: California Seal of biliteracy, increased academic performance,and awareness and understanding of other cultures.